Wix Website Builder Service Reviewed By C Website Design
Wix offer various different packages with there website builder, you can go for the free website builder which allows you to have a sub domain on the Wix platform along with a templated website which obviously has restrictions in place, hence why it's free! The other option is to pick from one of it's four premium packages such as the E-Commerce package which is costed at £12.44+VAT per month, Unlimited web design package which costs £9.97+VAT per month, Combo package £6.84+VAT per month and the Connect domain which is £3.70+VAT per month. We have provided a screenshot which gives you an overview of the packages below: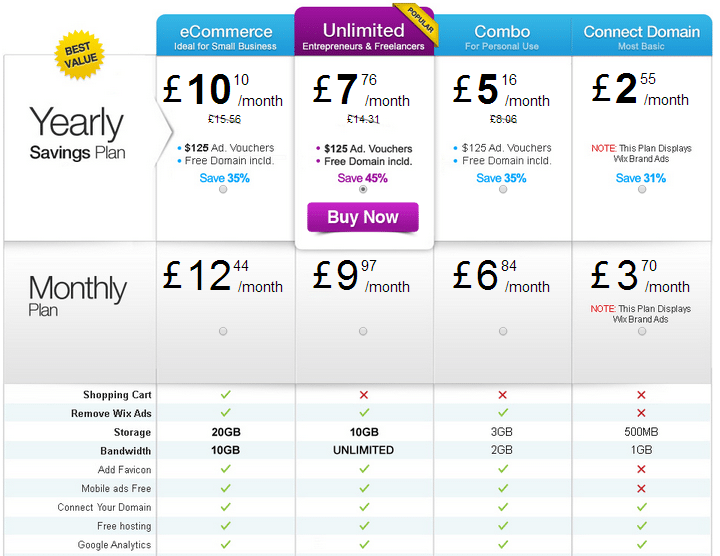 The above gives you an overview of the packages provided by Wix, at a first glance it would seem that you are receiving a fairly good service for the price you pay however this isn't just a 12 month contract. When you look into the terms of service a little further you will notice that this is a recurring monthly or yearly fee that will never disappear, at no stage will you ever own the website that you are paying for. When setting up a new business we understand that money can be tight and you need to be tactical with every penny that is spent however paying for a service such as website design should be straight forward and once paid for you should own the website you have paid for.
Alternative Options to Wix
An alternative option to a Wix website builder package would be to hire a web design company such as C Website Design, we offer professional, bespoke, affordable web design packages. Why spend on a service that you will never own? We believe in providing our customers with a professional service which is affordable; take a look at our web design packages and eCommerce Website Design packages to give you an idea of our costs:
Cheap Web Design Packages
Why not pay for a website that cost's as little as £199+VAT and it's a website that you then own! We have been providing professional web design services to start up and small businesses for a number of years now and love offering a service where most business owners are amazed when they receive the finished website. Why don't you have a look at our portfolio today to see if you would like to own a website designed by C Web Design.
Get In Touch With Cheap Web Design
If you are interested in our services and would like to chat further about how we can help your business please do not hesitate to get in touch with us today. You can contact us via telephone 01252 759 320, our live chat widget which is available at the bottom right hand side of your screen or alternatively you can contact us via email.