Moonfruit Review – The Pros and Cons to Moonfruit inc. Alternative Options
Out of all of the platforms we have reviewed recently we have to admit that Moonfruit provide the most flexible service when creating your own website with the Moonfruit Website Builder. They offer great functions such as 'Total Design Control' this will allow you to customise your website so it reflects your brand without having to understand CSS and HTML. They offer great on-page font and style editors which allows you to edit as you build your website. You can quickly understand why Moonfruit has become the UK's number 1 hosted website builder in the United Kingdom however although we have just praised Moonfruit non-stop above they do have there flaws and we believe anyone who is potentially going to sign up to them should know about.
Moonfruit Flaws
Like with any website builder it always has it flaws and a lot of the time it is surrounding price, although Moonfruit do offer an above average website builder software there prices are unfair. We don't believe that you should have to pay for web design services indefinitely but yet again with Moonfruit you do! The main 3 packages that they offer are listed below: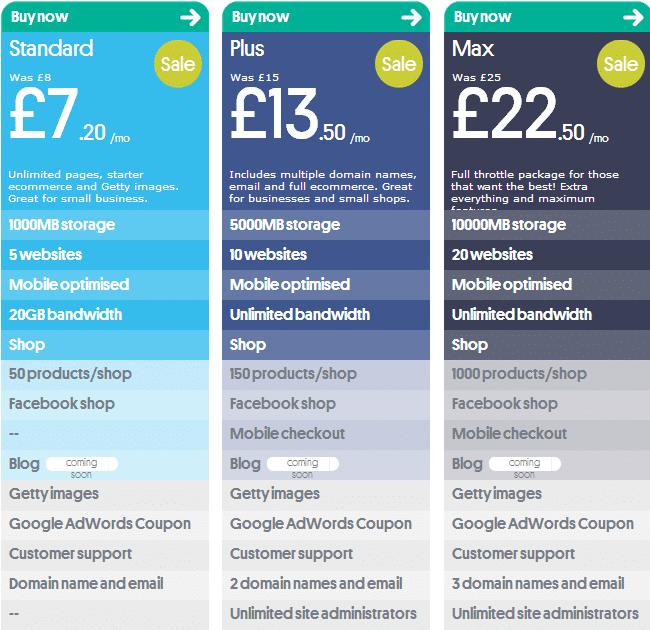 Prices Overview
As you can see from the above packages if we were to chose the Max package as we believe this is the best package to compare with our services you would be looking at a price of £22.50+VAT per month. Over a single year you would be paying £270+VAT and come the end of the year you won't even own the website! We understand that many start-up and small businesses require a pay monthly package as money restraints can be tight and need to be managed correctly for the success of your business however no-one can be happy paying for a product or service that they are never going to own.
What's The Alternative?
The alternative is simply! Stop trying to build a website yourself and let a professional web design company such as C Web Design take over and do all the hard work for you at a lesser price than what you would pay over 12 months for a service such as Moonfruit. At C Website Design we pride our-self's on the fact we can offer professional, bespoke and affordable websites which are targeted at start-up and small businesses, we have been in the industry for over 3 years now and every new website which we build our customer's are amazed with the final products.
Pricing?
Rather than paying for a service indefinitely and not owning your website come the end of it, why not take a look at our packages below which start from only £399+VAT and come completion of the website build, you will own a brand new website for your business.